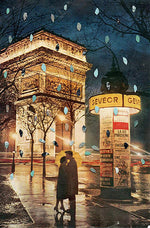 Numerous films over the years like French Kiss, Amélie and Midnight in Paris have embedded Romance in Paris.

Paris and romance, they go together like champagne and oysters, café and croissants, jambon and beurre, which is why loved up couples make a pilgrimage to the French capital every year on Valentine's Day. 

I love Paris. And I think Paris love me.
In Paris you want to have your first kiss, but where? Pont Neuf bridge, Pont Saint Louis..
at the bar of Hotel Particulier, Montmarte.. or on the banks of Canal St. Martin.. somewhere in Montmartre... even at Pere Lachaise Cemetery...
Square des Batignolles.. Pont Alexandre 3..